Adding an anchor link to your page
To create an anchor link within your page, you'll first need to create a unique ID for the section you want site visitors to "jump" to.
While editing rich text, place your cursor next to the text you want the anchor link to take site visitors to.
Click the anchor icon, which looks like a bookmark.
In the "ID" window that pops up, enter a unique ID for this section.

The text for your unique ID can be anything you want, but can't include spaces. Separate words with a dash.
Unique IDs are case-sensitive and can be only used one.

After you create a unique ID for your anchor link, you'll see a small anchor icon in the rich text editor.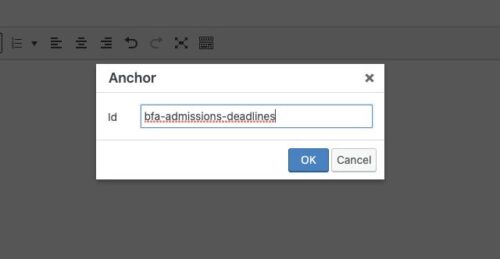 Creating the anchor link
Next, add the link that site visitors will click.
Type the text you want to link.
Highlight the text and click the Link icon in the Rich Text editor.
In the link interface that appears, type a hashtag (#), followed by the unique ID you just created.
Be sure to save your changes. The link you created will now take site visitors to the text section you marked with the unique ID.